Annual Conferences and Events
LXII Anglo-Catalan Society Annual Conference

Registration for the LXII Anglo-Catalan Society Annual Conference is now open. Please follow this linkto register.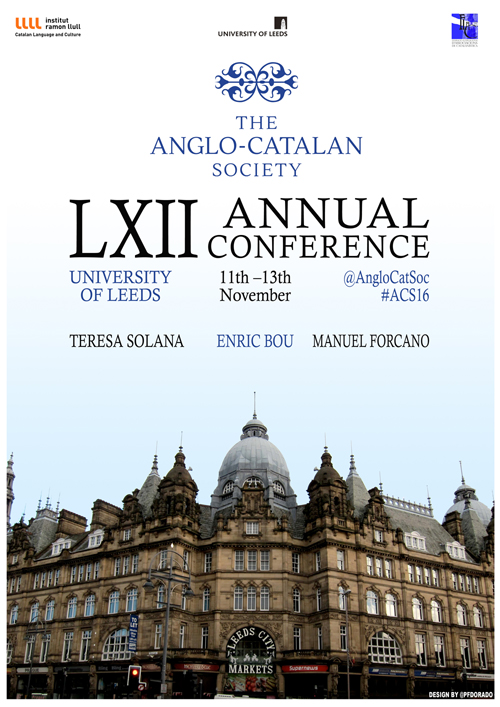 The LXII annual conference will be held at the University of Leeds from 11th to 13h November 2016.
This year's conference will take place at the University of Leeds. We encourage members and non-members alike to come to the conference and take advantage of this excellent opportunity to hear stimulating papers, engage in lively discussion and enjoy meeting with colleagues and friends. The University has a long tradition in the teaching of Catalan and regularly organises events with visiting filmmakers/authors from the Països Catalans.
In Leeds you will find a city brimming with culture, sporting heritage, excellent food, an exciting nightlife and superb shopping. Leeds is a popular city break destination with lots to offer visitors from the UK and abroad. It truly is a worldclass city that caters for all tastes and budgets. For more information, see visitleeds and the University's conference website MeetinLeeds.
The city is served by two major airports (Leeds Bradford and Manchester) and is very well connected by train from across the UK, including a fast and efficient London service. Find out more about how to travel to Leeds. Leeds has a compact citycentre, which can be walked across in 20 minutes. There are various city centre maps, as well as maps of the University of Leeds campus.
From luxury hotels to good old fashioned B&Bs, there's accommodation in Leeds to match all tastes and budgets. For anyone wishing to book accommodation well in advance, there are good deals to be had on city centre hotels via the usual online sites. Alternatively, cheap and convenient accommodation can be found on the University campus itself.
Further details about the conference fees, speakers, precise venues and how to book will be published on this website in due course. The local contact at Leeds is Duncan Wheeler (d.wheeler@leeds.ac.uk) Please email him directly if you have any questions or suggestions.